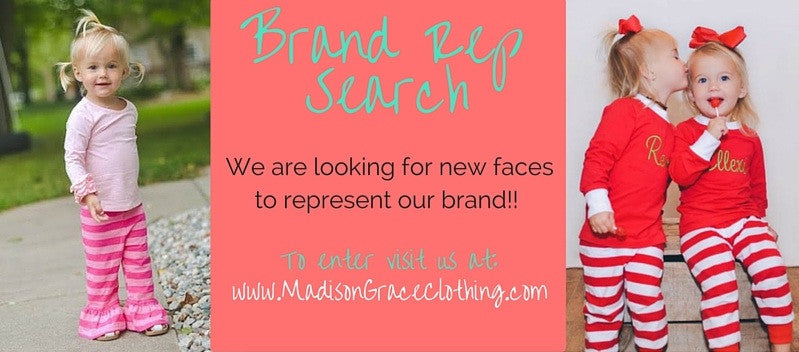 Brand Rep Search!

We are looking for girls between the ages of 6 months and 7 years old to represent Madison Grace. We love clear, crisp and well lit images.  If you are chosen you will receive our clothing for free in exchange for awesome photos and promoting our brand by tagging our clothing in your feed. 
Here is how to enter:
Follow @madisongraceclothing on Instagram 
Like us on facebook
Repost the image above to your feed and tag us @madisongraceclothing and a friend who might like our clothing
Post two images that show off your photography skills and tag with #MGCbrandrep. In addition you can email the photos to Madisongraceclothing@gmail.com
Search ends December 31, 2015
what you will get and your responsibilities
As a Brand Rep you will receive:
MGC Clothing chosen for your child
Our newest collection pieces ahead of release
Discount coupons that you'll be able to share with your followers
You will be required to:
submit high quality, clear, well lit and well styled photos that represent our brand. 
Declare your interest in our brand and Tag us in you profile and images
Give consent for your images to be used on our social media and website
Have a considerable following on Instagram and Facebook
Winners will be determined on the basis of how well you fit with our brands aesthetic and vision.
Winners will be chosen Friday January 1